Members' Page
Recent Messages
Church members can listen to recent messages delivered in church. Alternatively they can be downloaded as MP3 files, which you can be play on personal MP3 players or similar kit.
Addresses and Telephone Numbers
A list of addresses and telephone numbers is available for the convenience of church members.
Leaders' Annual Reports
Members are able to review the Leaders' Reports presented at recent Annual General Meetings:
9th May 2017 : 10th May 2016 : 12th May 2015 : 13th May 2014 : 14th May 2013 : 1st May 2012 : 10th May 2011 : 11th May 2010
Event Checklists
Members are able to view these checklists when preparing for occasional meetings:
Civil Partnerships on Religious Premises
In June 2011 we submitted our agreed response to the Government's Consultation regarding the hosting of civil partnerships on religious premises.
The Government's Equalities Office has now considered all responses and has published a summary of responses and the changes that the Government has made to the proposed legislation as a result of the Consultation Exercise.
See Summary of Responses – Civil Partnerships on Religious Premises: A Consultation
---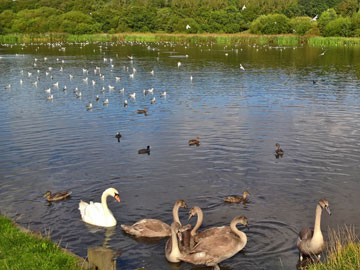 Saturday morning 16th September was the perfect day for a walk – clear, dry and not to warm nor cold.
Our destination was the area known locally as Bryn Flashes. Starting out at Land Gate Lane, we meandered along footpaths of varying widths and conditions, passing a number of bodies of water until we arrived at the Leeds and Liverpool Canal.
We followed the canal until we passed alongside Scotsman's Flash, when we decided it was time for lunch so we found a suitable bench along one of the footpaths leading off to Poolstock Lane.
On the return journey, we stopped for a short time to feed the swans and coots on Ochre Flash, before returning to church shortly after mid day.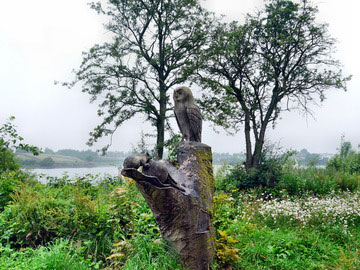 The forecast for Saturday morning 15th July was not ideal for a walk, but the light drizzle was not enough to put us off, so we made our way to Hollingworth Lake near Rochdale.
We were able to borrow a scooter from the visitor centre so that David could accompany us.
It was surprising the number of other people who ventured out for a walk, a run, a cycle ride and various kinds of boating on the lake. Everyone we met was very friendly and cheerful.
On our return to the visitor centre, we took the opportunity to view a short documentary about the lake; how and why it was built and its uses over the years.
In spite of the weather, we had a really enjoyable visit to a very attractive beauty spot.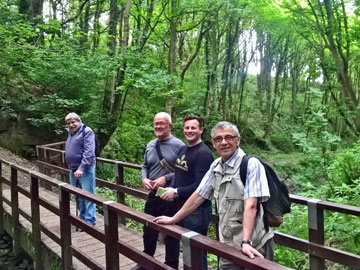 The men's walk at Fairy Glen was once again blessed with fine morning sunshine and required minimal special walking attire.
The forecast was for some rain at mid-day so we decided to head straight into the main path down into the Glen, the entrance to which was just opposite our lay-by parking spot.
The ancient and picturesque woodland offered an ideal floral canopy for our walk. Spring does present the Glen at its best with carpets of bluebells and wild garlic intermingled with several other varieties of wild flowers and plants.
We missed the presence of David Hughes and Alan Bridge, not only for their knowledge of the flora and fauna but also their company and sense of direction. However, we eventually managed to find our way as after approximately a half mile we met with a fork in the footpath. Which way to go was answered by Michael who wisely following scripture declared that we should obviously take the "narrow way"!
We managed to find our way through some beautiful rolling hills along well kept footpaths. It was good to be out in the fresh air and scenic Lancashire countryside in good company.
We re-entered Fairy Glen from a different aspect. We did not see any fairies or their habitats but maybe next time!! However someone was looking after us as we arrive back at the car with perfect timing just as the rain started, perhaps the fairies had read the weather forecast and were simply sheltering ahead of time!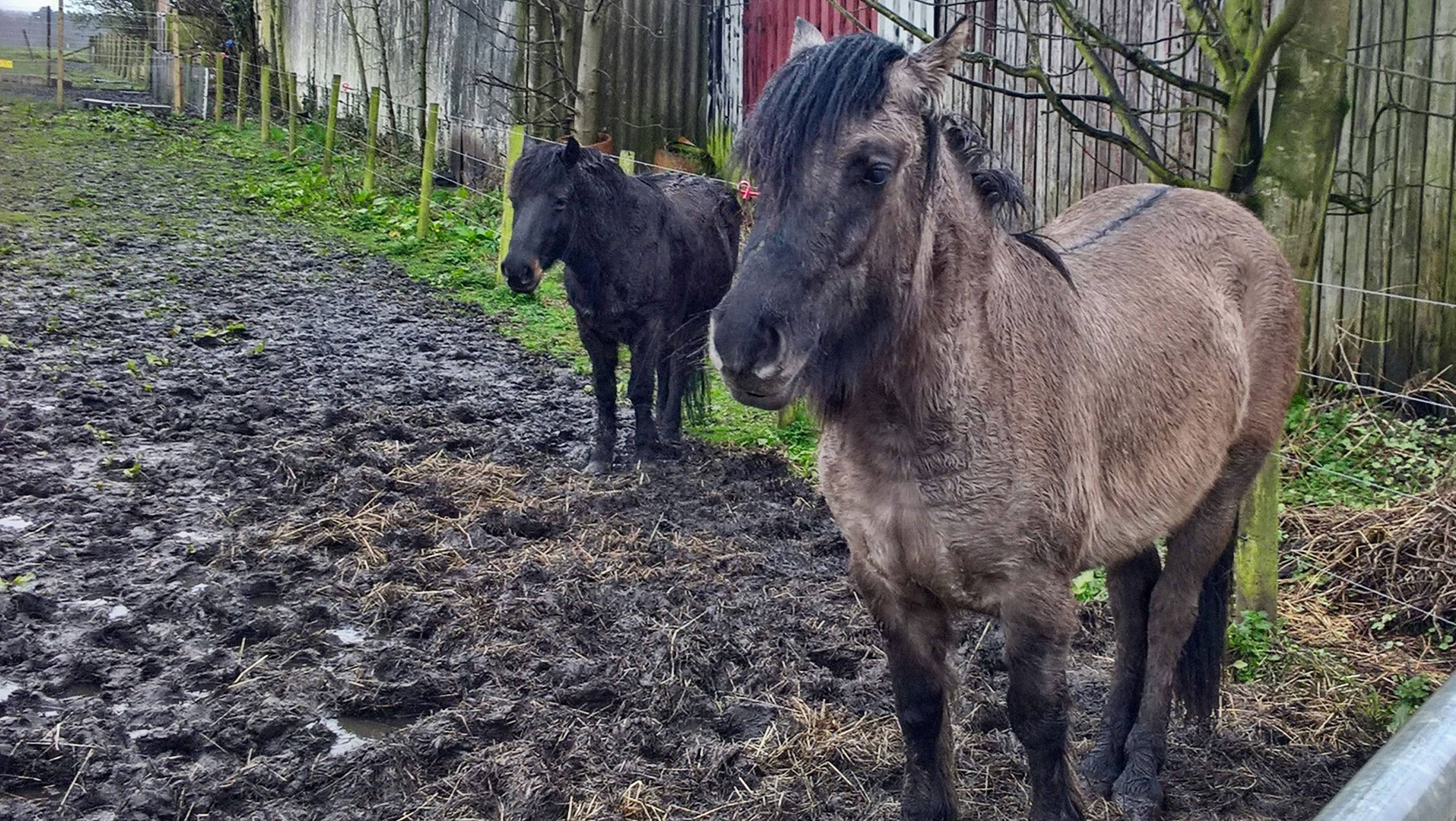 The walk around Bickerstaffe on Saturday 18th March was one of those days, thankfully very rare, when the weather was less than ideal.
Regardless of the weather, we had an enjoyable time walking the footpaths that, for the most part, meandered through open fields and included some interesting features that called for a sure footing.
The other point of interest was the fields of vegetables that appeared to have been abandoned, including a very large field of carrots and a smaller plot of cabbages – presumably surplus to requirements.
Fortunately God does not abandon His people that way but the day is coming when He will gather in His harvest and none will be left.
Christmas - 2016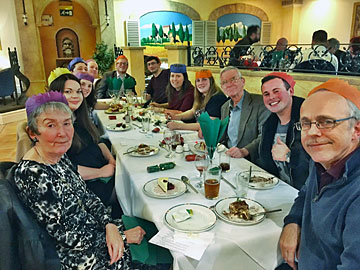 Members of the 301 Group and the Music Group joined together on Saturday 3rd December to celebrate Christmas with a meal at the Rigalettos restaurant – part of the JJB Stadium.
The 301 Group meets every other Sunday evening throughout the year to share supper together, followed by studies in various aspects of discipleship.
Since many members of the Music Group also attend the 301 Group, it seemed appropriate to join together for this celebration of our Saviour's birth.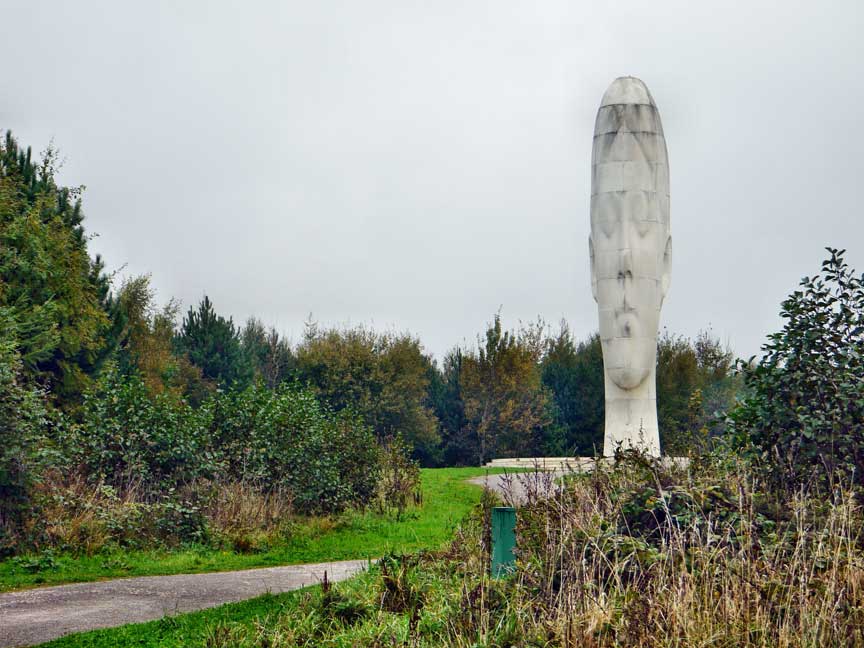 The Dream
The Men's walk on 15th October had a more artistic feel to it than normal as we visited one of the UK's major public artworks. The Dream takes the form of a 20 metre high girl's head with eyes closed, as if dreaming.
The sculpture was erected as a monument to Sutton Manor collier, which was closed in 1991. It is set within the Sutton Manor community woodland environment, which makes it ideal for a leisurely walk.
As is often the case, the weather forecast was not very favourable, but, in practice, we only experienced a single, light shower. Although it was a little wet underfoot in places, we were able to complete our walk in relatively dry and warm conditions.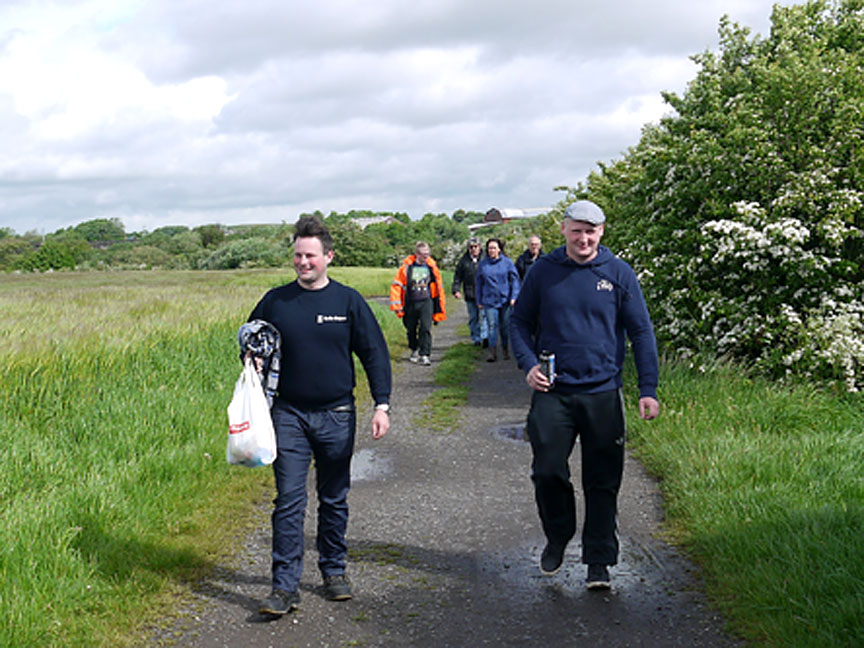 Bradlegh Loop Walk
On Saturday 21st May we walked Bradlegh Loop, part of Sankey Valley Park. This was our second visit but the previous occasion had been in winter when the trees were bare and the area seemed quite desolate.
This time there was plenty fresh green growth and spring blossom along the way. Perhaps most extraordinary was the weather, which was warm, dry and bright – confounding the forecasters once again. We were able to complete the walk, have lunch together and set off for home before the rain began.
The scenery was quite varied, from open fields, through tree covered walkways and alongside the brook and canal, revealing something of the diversity of God's creation.
At the end of our walk, we thought we were being clapped for having completed the loop but then we saw it was for a local team of runners who were using the opportunity to boost their fitness.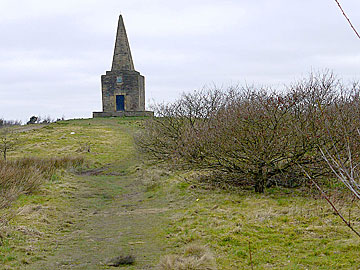 Ashurst Beacon was originally built in the 16th Century as one of a chain of beacons stretching from Liverpool to Lancaster Castle. They served as a means of communication giving an early warning system against invaders. The beacon was rebuilt around 1800 when England faced the threat of the Napoleonic Wars.
On Saturday 19th March, the beacon and surrounding area provided an excellent venue for the Men's Walk
The walk included some narrow footpaths, wooded areas and some open fields which eventually led to a short ascent to the beacon, with its extensive views over Lancashire, Merseyside and North Wales.
With fine weather and a couple of guest walkers, we had a really enjoyable morning of fresh air and fellowship.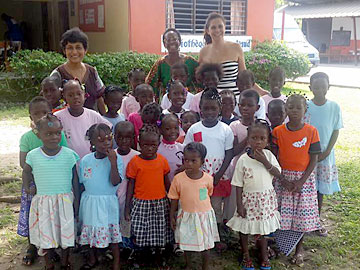 More Dresses and shorts have been dispatched – this time to Mama Ngina Children's Home in East Africa
These are in addition to the dresses that were earlier delivered to the Ivory Coast.
Look at the pictures to see the smiles that such simple gifts bring to the faces of these children who have so little
Thanks to Josie and her daughter Kathryn who made this option possible. Thanks too for everyone's support for DAG at church - the Banner Team have been greatly encouraged and blessed by your giving. This photograph sure makes it all worthwhile!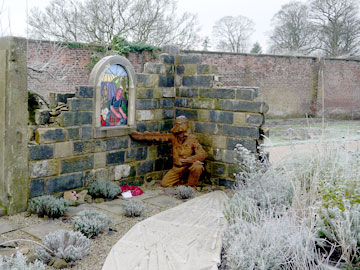 Astley Park in Chorley has all the ingredients needed for a men's walk on a crisp January Saturday morning. There was a low turnout, which was hardly surprising, given the low temperature, but otherwise it was an ideal day for walking.
There are plenty well kept paths to explore, that meander through woodland and cross the river Chor in various places.
In addition to the walk, there's a walled garden which is of some interest even in January but should be really stunning when in full bloom. Adjacent to the garden are various attractions and facilities occupying the buildings that were once the stables to the manor house.
Although the house is only open from midday until 4:00pm, it is free to look around its labyrinth of corridors and rooms, of which perhaps the most notable contains the four-poster bed in which Oliver Cromwell is reputed to have slept.
All in all Astley Park proved to be a worthwhile walk along with some genuinely interesting diversions.
Operation Christmas Child
Operation Christmas Child, the world's largest Christmas project, brings joy and hope to needy children around the world through gift-filled shoe boxes and the Good News of God's love.
Since 1993, more than 124 million shoe box gifts have been delivered to children in more than 130 countries.
Each year children and adults from across the UK wrap, pack and fill around 1 million shoeboxes with gifts, which Operation Christmas Child overseas send to children in need.
This year, we were able to send off 42 shoeboxes to help make Christmas 2015 that little bit more special for needy kids.
>
If you missed a message or if you wish to hear a message again, most are now available to borrow on CD. They are on display in the Narthex.
You can borrow them to lend to others who are not able to attend church or who you think may benefit from hearing them.
Alternatively, members of the church can download or listen to recent messages on-line.
---
Every member has a responsibility for the quality of this website.
Please inform the leaders about any errors or anything you notice that is inappropriate.