Welcome to our Church Family
If you want to worship God or to learn more about Him, do come and join us.
If it's a while since you have been to church and want some idea of what to expect, we have some helpful hints for you and you'll find that we are really quite friendly anyway.
If you want to know more about what it means to be a Christian, then we would welcome the opportunity to answer your questions, without any obligation whatsoever. See our Contact Us page for how to find us.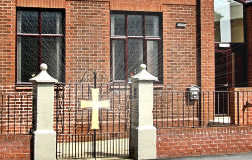 Sign of the Cross
Built into the gates of the church, and in various places inside you will see a cross. They remind us that Jesus Christ, the Son of God, was crucified on a cross to pay the penalty for all the wrongdoing in the world.
His death was not the end. Jesus Christ rose from the dead - something we remember every Easter. His death and resurrection demonstrate the love of God for all mankind and they are at the core of what we believe.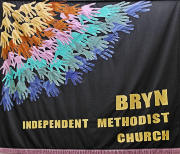 Authority of the Bible
Inside our church, you will see the walls are adorned with banners carrying Bible quotations and depicting Christian stories. We call them Banners of Truth and they show our commitment to the bible as our source of all knowledge about God and how we should worship and serve Him.
What We Believe explains some of the truths we believe and which are taught in the bible...